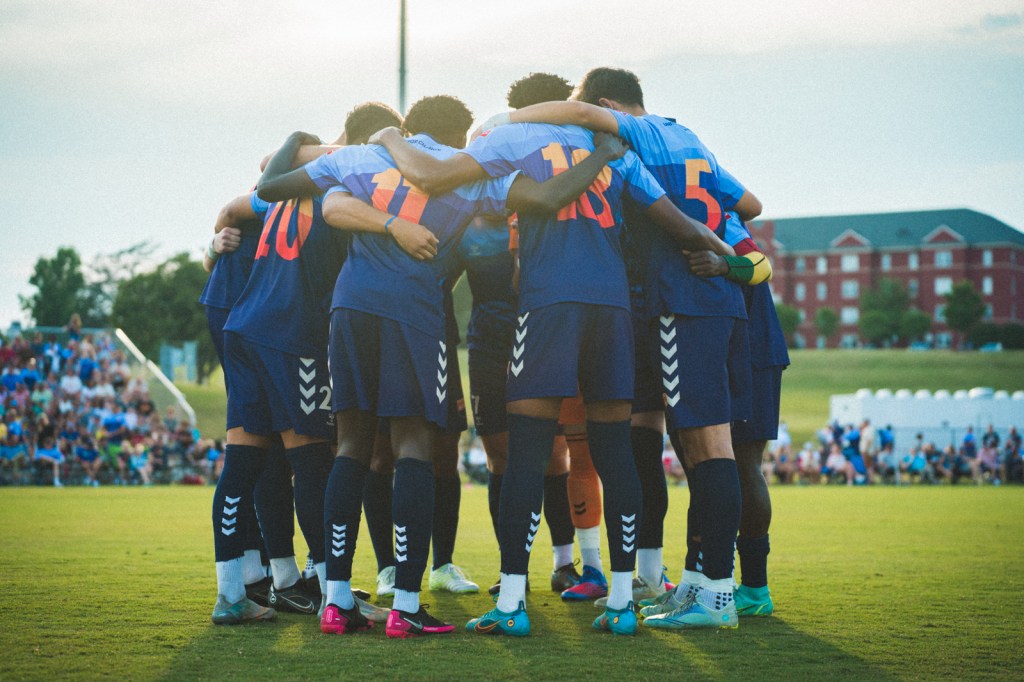 Professional Soccer is here, Knoxville.
One Knoxville SC is proud to present its final 2023 USL League One Roster, the first of its kind.
It is made up of professional soccer players from up and down the United States and across the pond in Europe – all are ready to represent the 865 with everything they have.
Starting in between the sticks, Sean Lewis and Peter Swinkels will – hopefully not – be the last men standing in the line of defense. Both goalkeepers bring vast amounts of experience, skills and a winning mentality to the team. Sean Lewis has a place within the highest appearance list in USL Championship history. And while Peter Swinkels is a rookie, he's one you will recognise from One Knoxville SC's inaugural year in USL League Two.
In front of them will stand warriors with talent, strength and courage in the shape of Jordan Skelton, Jalen Crisler, Sean O'Hearn, Daniel Fernandez and Gabriel Claudio.
Jordan Skelton, a transfer from North Carolina FC, will be rejoining Mark McKeever after being a part of the 2021 USL League Two National Championship side. Skelton won't be the only one from this National Championship side as the Spaniard Dani Fernandez will join him in defense. If that wasn't enough championship-winning experience, then also welcome USL League One Regular Season champion Jalen Crisler, who joins the 865 after success with the Richmond Kickers.
Flanking the back line come the full backs. A familiar face in James Thomas returns to Knoxville after leading the USL League Two team to a Regular Season Championship and deep run in the postseason. Competing alongside Thomas for a place out wide for Knoxville come Jan-Erik Leinhos, Derek Waldeck and Kyle McDowell. A mixture of flair, experience, and creativity trickle through each of our full backs who you will see flying up and down the wings at Regal.
Supporting them from the central areas will be our midfield maestros. Another familiar face? Yes, Sam Fletcher will be back in Knoxville to partner Yesin van der Pluijm, Angelo Kelly, Callum Johnson and Jimmie Villalobos in the center of the park.
Angelo Kelly is one that will bring a huge amount of USL experience, having played 119 games across 5 years in the USL Championship for Charleston Battery and Pittsburgh Riverhounds.
In addition to Kelly, we have a USL League One finalist in Jimmie Villalobos joining One Knox after a stellar season for Chattanooga Red Wolves. He will be looking to go one step further in this year's quest for success.
All that is left to introduce you too, are goals.
A variance in attacking force is on its way to East Tennessee. Scotland native Frank Ross will fly over the Atlantic to wear the colors of One Knox after playing in the Eredivisie, the top division in the Netherlands. Alongside Ross is Jake Keegan, a previous League One Champion with Greenville; Ahinga Selemani, a US Youth National Team product; and USL Championship veteran Ilija Ilić. A proven winner with Louisville City, Ilić will bring his leadership, experience and capabilities of producing the final product to Regal Stadium.
Beyond those goals, you'll find… more goals. Matt Vowinkel, an MLS draft pick, and Knoxville's fan favorite from League Two, Seba Andreassen join the party. Andreassen stole the hearts of many last year with his dominance in the air and ability to dominate defenders physically. Both of these players have an eye for goal and plan to lead the team from the front.
Head Coach Mark McKeever is ecstatic to get to work and had this to say on the 2023 roster, "I am very excited about the versatility of the squad we have put together. There are a lot of different options all over the field that I hope will allow us to adapt and play many different ways to stay unpredictable over the course of the season. I can't wait to start grafting and putting in a proper shift every day on the grass as I watch these lads push each other forward and provide the glue to a team culture that I am excited to see grow."
One Knoxville SC opens its doors with a season opener at home on March 18th vs fellow expansion team Lexington SC. Kick off is slated for 7 pm.
History happens once. Be there when it will all start as McKeever and his soldiers will begin the journey to success!